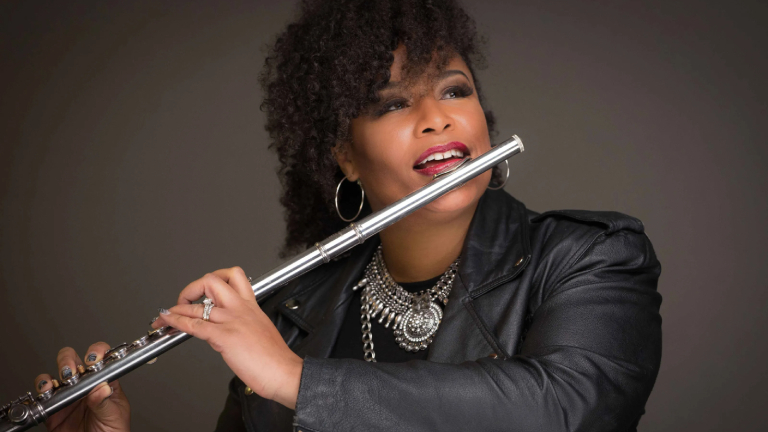 It takes skill, creativity, sheer musical ability, and a charismatic presence to electrify the music scene. And that's just what flautist Ragan Whiteside has done in the world of instrumental soul within a few short years. The Atlanta-based musician, songwriter, and vocalist has consistently delighted fans and critics alike with her unique brand of engaging upbeat melodies and exhilarating flute playing. Tunes like the May 2021 single release "Off The Cuff," as well as "JJ's Strut," "Reminiscing," "Jam It," "Early Arrival," "See You At The Get Down," and the Billboard No. 1 "Corey's Bop," have burnished her reputation. What's more, Whiteside has become one of few women players to excel in the male-dominated instrumental sphere, garnering six consecutive Top Ten Billboard airplay singles by 2021. And she's done it as an independent, releasing projects on Randis Music, the label she founded with her husband, producer, and composer Dennis Johnson.
Influenced by such diverse flute masters as jazz-classical player Hubert Laws, the late Latin jazz artist Dave Valentin, and the French classical flautist Jean-Pierre Rampal, Whiteside's rigorous musical training prepared her to play in the most prestigious symphony orchestras in the world. Yet, after graduation, Whiteside admits she wasn't sure what she wanted to do. Back home in Mount Vernon, she attended a show at a local jazz club where keyboardist, producer, and composer Bob Baldwin was headlining. While watching, Whiteside says she had an epiphany: "I was sitting up front and I said, "Oh my God. This is what I want to do."
After the show, she introduced herself to Baldwin. "I told him, 'Look I'm a classical musician but I want to make the transition to jazz. Will you help me? And he pretty much took me under his wing, right then and there," Whiteside explains. "And two days later, I went to a studio in Yonkers, and it was my first non-classical studio session." Whiteside performed a Stevie Wonder tune for Baldwin and studio owner Dennis Johnson, who later became her husband. "That's how we met," Whiteside adds. "I played a Stevie Wonder tune, and they were like, 'Hey, we need some flute on this jingle for [New York smooth jazz station] CD 101.9.' And I did that, and from there Bob was teaching me how to make that transition from classical to jazz, and Dennis taught me all about audio engineering and making music with computers."  Since then, Johnson and Baldwin have become Whiteside's frequent songwriting collaborators.